What's New In Store!
Lavender Sachets
Set includes 3 Lavender Sachets filled with 100% PURE French Lavender flowers to impart a fresh, clean scent to closets, drawers and cupboards. When traveling tuck one in your suitcase. Lavender is a natural antibacterial and moth repellent. Gift boxed with a clear vinyl lid, and tied with satin ribbon. Size 3" x 3"
Cat Nip Toys
Share Happy Hour with your cat. Filled with premium catnip grown in North America without the use of pesticides or chemicals. Always supervise pets when playing with toys
Fragrant Spiced Mug Mats
Filled with real spices for long lasting scent. Place warm tea or coffee mug on mat to release spicy aroma. Pocket across the front of the mat holds a packet of Celestial Seasonings Tea. Makes a thoughtful and inexpensive gift idea. Great for gift baskets. Machine washable. Packaged with header
Jabebo Earrings
Environmentally friendly earrings made from recycled cereal boxes. Laminated and put onto surgical steel wires these beautiful bird inspired earrings are lightweight and durable. Choose your favorite bird. Great Selection of all our regional birds.
Sophie Allport Designs from London England
If you are looking for home accessories with a quirky country design then Sophie Allport collections will add a touch of country style to your kitchen.
Table runners, Napkins, Placemats, aprons, tableware accessories and more
JellyBean Rugs
Recycled material. Indoor and outdoor use. Machine washable. "wear better than your jeans"


Coles's Flaming Hot Sauce
Flaming Squirrel seed sauce:
A nutritional birdseed supplement that contains all natural, 100 percent food grade ingredients with a super hot and spicy flavor
It tastes hot to mammals but not to wild birds
To keep squirrels and voles from digging up your bulbs, dip each one before planting
The 8 oz. Seasons 30 pounds of Birdseed.


Bird Baths
Providing Water for Birds Like all animals, birds need water to survive. Though they can extract some moisture from their food, most birds drink water every day. Birds also use water for bathing, to clean their feathers and remove parasites. After splashing around in a bath for a few minutes, a bird usually perches in a sunny spot and fluffs its feathers out to dry. Then it carefully preens each feather, adding a protective coating of oil secreted by a gland at the base of its tail. For these reasons, a dependable supply of fresh, clean water is attractive to most birds. In fact, a birdbath will even bring to your yard birds that don't eat seeds and wouldn't visit your feeders. Providing water for birds can also improve the quality of your backyard bird habitat and should provide you with a fantastic opportunity to observe bird behavior.

See our new selection of Glass, Metal, concrete, hanging styles and more.
Holiday Ornaments
Visit the store to see our huge selection of bird inspired holiday ornaments. Owls, Hummingbirds, Chickadees and more.
Tableware and Home decor
Decorate your home with nature. Lovely selection of Gift Boxed Tea mugs, coffee mugs, napkins, tablecloths, aprons and place mats.
Assorted Stocking Stuffer Ideas
Fabric luggage tags and personal cooling ties for those who like to travel. Super Bright LED mini flashlights with magnetic clip for easy use. Exquisite Belgian chocolates for your sweet tooth friends and family. Handheld hummingbird feeders, Puzzles, puppets and more.
WBU Winter SuperBlend™: Give your birds a little extra help with season-savvy feeding! During the winter's short daylight hours and colder weather, birds need every big of nutrition available to get through the long night. Winter Superblend can be used on its own or mixed into your normal seed blend. Packed with sunflower chips, pecans, peanuts, tree nuts, bark butter bits and Nutrasaff, this blend is a nutritional powerhouse right when birds need it most. The seed cylinders form provides a convenient and long-lasting way to feed your birds.
Ingredients: sunflower chips, pecans, peanuts, tree nuts, bark butter bits and Nutrasaff.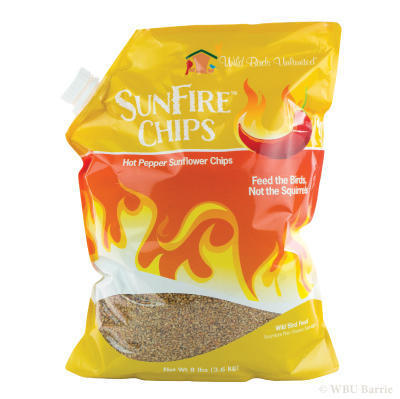 SunFire™ Chips: Feed your birds while discouraging squirrels and other critters! These hulled sunflower chips are treated with hot-pepper. Birds will flock to it and leave no messy shell waste behind. The bag features a special pour spout for easy feeder filling without having to scoop or touch this hot pepper food. Contains a strong irritant to eyes, nose and skin. Wash thoroughly with soap and water and after handling. Keep out of reach of children.
Ingredients: Sunflower Chips, Red Pepper
Bag Size: 8 lbs. (3.63 kg)