What's New In Store!
Peeps Eye Glass Cleaner
Scratch-resistant brush removes dust & abrasive particles. Revolutionary new way to get spotless lenses. Eco-Friendly Solution. Travel Friendly. Weather Safe. Compact Carrying Case. Cleans Perfectly.
Michele Design Works - Bath, Kitchen and home decor
Beautiful hard mill soaps and foaming soaps from England in 3 luxurious fragrances. Napkins, Melamine ware, aprons and more.
The Amazing Swedish Dishcloth 100% biodegradable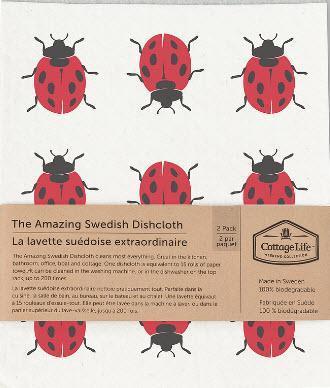 The Amazing Swedish Dishcloth cleans most everything. Eco -friendly. Great in the kitchen bathroom, office, boat and cottage. One dishcloth is the equivelent to 15 rolls of paper towel! Absorbs 15 times its weight in water. Lasts 9-12 months. Compostable. It can be cleaned in the washing machine or in dishwasher up to 200 times.
Cat Nip Toys
Share Happy Hour with your cat. Filled with premium catnip grown in North America without the use of pesticides or chemicals. Always supervise pets when playing with toys
Fragrant Spiced Mug Mats
Filled with real spices for long lasting scent. Place warm tea or coffee mug on mat to release spicy aroma. Pocket across the front of the mat holds a packet of Celestial Seasonings Tea. Makes a thoughtful and inexpensive gift idea. Great for gift baskets. Machine washable.
Garden B
andit - The only tool you need for your garden!
Made in Canada the popular and handy 'Garden Bandit' answers your weeding problems. With a solid handle and stainless steel blade this tool is ideal for plant pots and boxes as well as raised beds. Garden Bandit is built to last a lifetime!
JellyBean Rugs
Recycled material. Indoor and outdoor use. Machine washable. "wear better than your jeans"
Jumping Cracker Bean Greeting Cards
Each playful, handmade greeting card in Jumping Cracker Beans' award-winning 'tickle 'em' line features surprising eye-catchers, including packets of real herbs and spices, hot chocolate, coffee, chicken bouillon, cake mix with candy sprinkles, and teas to brew.


Coles's Flaming Hot Sauce
Flaming Squirrel seed sauce:
A nutritional birdseed supplement that contains all natural, 100 percent food grade ingredients with a super hot and spicy flavor
It tastes hot to mammals but not to wild birds
To keep squirrels and voles from digging up your bulbs, dip each one before planting
The 8 oz. Seasons 30 pounds of Birdseed.


Bird Baths
Providing Water for Birds Like all animals, birds need water to survive. Though they can extract some moisture from their food, most birds drink water every day. Birds also use water for bathing, to clean their feathers and remove parasites. After splashing around in a bath for a few minutes, a bird usually perches in a sunny spot and fluffs its feathers out to dry. Then it carefully preens each feather, adding a protective coating of oil secreted by a gland at the base of its tail. For these reasons, a dependable supply of fresh, clean water is attractive to most birds. In fact, a birdbath will even bring to your yard birds that don't eat seeds and wouldn't visit your feeders. Providing water for birds can also improve the quality of your backyard bird habitat and should provide you with a fantastic opportunity to observe bird behavior.

See our new selection of Glass, Metal, concrete, hanging styles and more.
Nesting SuperBlend - Essential protein & calcium for nesting families.
Our highest protein blend packed full of sunflower chips, peanuts, mealworms, bark butter bits (suet) nutrasaff,tree nuts and calcium. This blend is perfect for birds getting ready to nest, while they nest and for the young when they leave the nest. The high protein is also crucial for feather development and molting. This blend will be available from February through August. It is great when offered alone or mixed in with a favorite seed.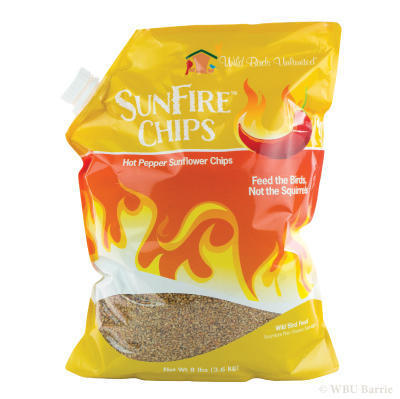 SunFire™ Chips: Feed your birds while discouraging squirrels and other critters! These hulled sunflower chips are treated with hot-pepper. Birds will flock to it and leave no messy shell waste behind. The bag features a special pour spout for easy feeder filling without having to scoop or touch this hot pepper food. Contains a strong irritant to eyes, nose and skin. Wash thoroughly with soap and water and after handling. Keep out of reach of children.
Ingredients: Sunflower Chips, Red Pepper
Bag Size: 8 lbs. (3.63 kg)