Vancouver, British Columbia
1302 West Broadway
Vancouver, BC V6H 1H2
Corner of Birch & Broadway - Free Parking in Back

(604) 736-2676
Closed for business today.
| | |
| --- | --- |
| Monday | 9:30 am - 6:00 pm |
| Monday | 9:30 am - 6:00 pm |
| Tuesday | 9:30 am - 6:00 pm |
| Wednesday | 9:30 am - 6:00 pm |
| Thursday | 9:30 am - 6:00 pm |
| Friday | 9:30 am - 6:00 pm |
| Saturday | 9:30 am - 5:30 pm |
| Sunday | Closed |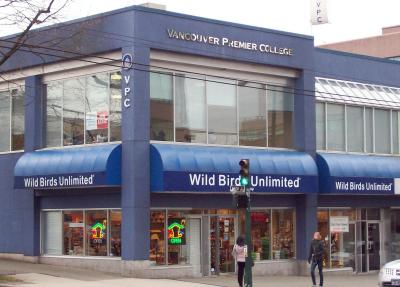 Mark & Laura Eburne Franchise Store Owners
View Our Store Site
We're Hiring! Growing our Flock.

At Wild Birds Unlimited, we are dedicated to bringing people and nature together and doing it with excellence. We are looking for motivated, customer focused individuals to join our team and help more people experience the joy of backyard bird feeding.
Ask for an application
Email your resume to: [email protected]
Our Promise

Flexible Hours
Competitive Pay and incentive
Employee discount
High Energy atmosphere
Paid in-store training

Create an Autumn Habitat For Your Birds
Autumn is a time for sweet memories of falling leaves and aromas of pumpkin spice. As much as we look forward to traditions, birds look forward to the consistent things in our yards. Fall is the perfect time to advertise to the birds that they can rely on our yards as part of their winter habitat territory.
Leave the Landscape: Leave spent plants standing to provide natural food sources and protective cover for the birds. Sparrows will flit to the top of the plants and "ride" them to the ground to feed on the seeds. Juncos and towhees will scratch the ground for dropped seeds. Other birds can find morsels of native insects overwintering in the dormant garden spaces.
Take Stock of Feeders: During winter, birds need high calorie foods to keep their little bodies warm, especially during cold nights. Fall is the perfect time to clean, repair or install new feeders before winter arrives.
A Feeding Foundation: Birds are always looking for food; whether they are eating it or not. Have at least one foundational feeder available now that dependably provides food and does not have to be filled very often. Help your birds know your food is reliable and ever present for them; especially when the weather turns nasty. Don't forget to offer a little millet for all our returning ground feeders.
Provide Shelter: Cold winds strip heat from birds very quickly. Birds will seek refuge from the wind in dense vegetation, natural cavities, brush piles or roosting boxes. Roosting boxes provide birds with a warm, dry location that can help protect them from cold, nasty winter weather. Autumn is a convenient time to convert your nest boxes into roosting boxes by temporarily plugging the ventilation holes to help trap heat inside the box.
Offer Water: Birds need water in winter to maintain their feathers for effective insulation. Take time now to set up a heated bird bath or add a heater to your existing plastic, metal or stone bird bath. This will help make some water available even on the coldest day.
Migration is starting: Visitors to your garden may not understand the reflections that they see in your windows. Make sure to install decals on your windows to prevent bird strikes.
June Hunter's City Crow Calendar 2022 Has arrived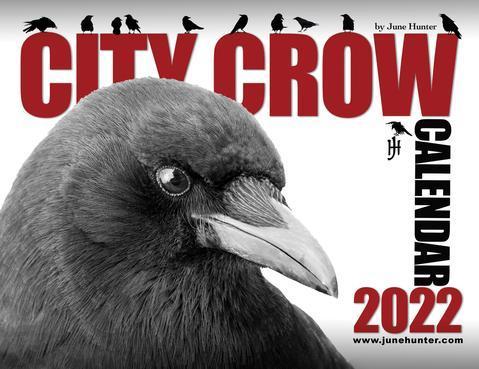 Get your copy before they fly the coop!
---