Whether you're preparing for the Great Backyard Bird Count or just want to see more birds, we have a variety of the best seed blends and suet in town! Our seed blends:
are chosen by your local expert
are formulated to care for your birds.
contain no cereal fillers – just seeds your birds love.
Our suet and no-melt suet dough contain high-quality ingredients and make every trip to the feeder count.
SAVE 15 % NOW
on 20 lb. Bags of Bird Seed & Suet Cakes
(Feb. 1 thru Feb 29th)*
*One discount per purchase. Offer not valid on previous purchases or sale items.

We are looking for Part Time sales associates who are
"for the birds."
Join us and help customers bring nature into their lives. Email your resume to WBU118@telus.net
Celebrate National Bird Feeding Month in February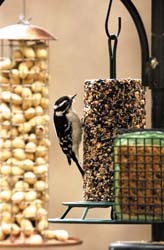 Cupid isn't the only winged object that people need to watch out for this month.
Backyard bird feeding is enjoyed by over 52 million North Americans. And while February is National Wild Bird Feeding Month, with the right provisions, people can enjoy a wide variety of backyard birds all year long.
The Great Backyard Bird Count, a joint project between the Cornell Lab of Ornithology and the National Audubon Society, also occurs this month. Individuals, families, schools and organizations are invited to count birds at bird feeders and in backyards, local parks or other locations. Those tallies are then reported online through the Great Backyard Bird Count web site. This data helps define bird ranges, populations, migration pathways and habitat needs.
The count is fun, easy and educational. It's also a terrific way for Cornell and Audubon to learn more about the abundance and distribution of bird species.
People can increase the variety of birds that visit their backyards by providing the appropriate foods in the right location.
Backyard birds usual fall into three feeding categories: ground-feeding, elevated feeding and a combination of both. For example, goldfinches prefer to eat Nyjer® (thistle seed) from a hanging tube feeder, whereas juncos generally eat millet on the ground, and cardinals most often feed on the ground, but will also use elevated feeders.
Stop by the store and let us show you how you can attract feathered friends to your backyard!
How To Better Identify
Birds for GBBC
As a Great Backyard Bird Count (GBBC) participant, you may see birds you don't know. To identify lesser-known birds, practice answering the following questions, looking at a bird from the top down.
1. Silhouette
Look at the bird's overall size, shape and posture. Is it the size of something familiar like a sparrow, robin or crow? How does it sit, perch or fly?
2. Head Markings
Does the bird have a colorful or striped cap? Is there a stripe above or through the eye, or does it have an eye ring or "spectacles?" Look for cheek patches or a mustache. Is there a white throat patch?
3. Body Markings
What are the overall back, breast and belly colors? What's on the chest: a patch, spots, streaks or is it clear? Are the flanks (sides of body) clear or streaked? Is there a white or yellow rump patch?
4. Wing Markings
Are the wings a different color than the body? Are there wing bars or spots?
5. Tail Shape and Markings
Is the tail long or short compared to the body? Is it forked, squared, pointed or another shape? Are there certain colors or vertical or horizontal stripes?
We offer a variety of binoculars that will provide clear views and field guides that will help you determine a bird's identity. With practice, you will quickly gather all the clues you need to positively identify birds.
For more tips on how to better identify birds, visit http://gbbc.birdcount.org/.
How Cool is That! - Great Backyard Bird Count
Get Ready for Nesting Season!
Chickadees are already scouting locations to raise this year's brood.
Now is the times for us to prepare our back yards for the spring nesting season by cleaning nest boxes, feeders and bird baths as well as offering ideal homes and foods for nesting birds.
WBU nest boxes have been specially designed and constructed based on species-specific requirements. Our nest boxes have good ventilation, drainage, insulation, protection from the elements and predators, easy cleaning and durability.
Foods that nesting birds seek include protein and calcium and are found in a number of WBU offerings such as any of the WBU Plus Blends, any of the Jim's Birdacious foods, select WBU suet doughs as well as mealworms.
It's the perfect time to invite birds to nest in your yard by installing nest boxes and offering nesting foods to help birds thrive during nesting season. Enjoy attracting them to our yards for a more intimate look while they raise families.