Earn Double Points!

March 27th - April 9
It's a Party just for YOU! We want to thank you for all you have done for our store and the birds. We have planned a wonderful event especially for you, and we hope you will attend!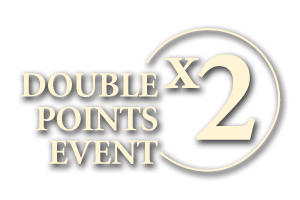 During our event, Daily Savings Club® members earn Double Points with every purchase. That means you reach 200 points faster and earn a $10 Bird Buck, good for a future purchase of any merchandise in the store.
No minimum purchase required to receive Double Points, and only Daily Savings Club members can enjoy this special offer.
Not a DSC member? Join now to take advantage of this special member-only offer.
How to Attract More Birds with Peanuts
*Valid on in-store purchases only. One discount per purchase. Offer not valid on previous purchases or sale items. Valid March 13 to 26th at the Vancouver and North Vancouver WBU locations.
Make March Less of a Stress for Birds
Simply put, March can be a very difficult month for your birds.
Early in the month, birds' natural food supply is at its lowest point of the year. Insect populations are still low, and the few remaining wild fruits, berries, seeds and nuts are either hidden or undesirable. Unpredictable weather doesn't make life any easier. Sunny, warm, spring-like days can turn into cold, damp conditions that challenge birds' survival skills. And to make matters worse, this is all happening as some birds prepare for nesting season.
However, these various challenges provide you with one of the best opportunities of the year to help your birds.
Providing Food Makes a Difference
Offer your birds lots of high-energy foods, such as peanuts and suet. Loaded with fat and protein, these are beneficial substitutes for the scarce insects many birds would eat if they could find them.
Counteract the lack of natural insects by offering protein-rich mealworms. They are eaten by numerous species of birds and can be a lifesaver during a sudden cold snap.
Nesting Birds Need Help, Too
Birds build open-cup shaped nests in trees or on the ground, or they nest in cavities (or holes) in trees. By placing nesting materials and installing bird houses around your backyard, you can entice birds, such as bluebirds, wrens, chickadees, titmice, nuthatches, woodpeckers, Purple Martins, swallows, owls and Wood Ducks. Bird houses can make your birds' lives a little easier. After all, they have already expended a lot of energy establishing territories, courting and looking for scarce food.
When you provide a nesting box to give your birds a home, be sure it meets these six requirements:
Designed to meet the size and nesting requirements for a specific bird species
Ventilation holes to provide release for heat build-up
Easily cleaned
Easily mounted or hung
Durable to withstand several seasons of use
Drainage holes in the bottom of the house

Being Seasonally Savvy: Give Nesting Birds a Hand
Calcium is the most challenging mineral for birds because when they need it, they need large quantities and they need it right away. This is mainly during nesting time for egg laying ans well as chick development. The amount of calcium in their natural diet of seeds and insects is often inadequate and they must seek calcium-rich foods as a supplement. Ask us about the many bird foods we offer which include calcium to help your nesting birds
Our source of calcium is from oyster grit or limestone dust. Both are finely ground and easily consumed by small songbirds.
Be a seasonally savvy friend to your birds by providing them with the extra calcium they require during nesting season.
Get Ready for Nesting Season!
Chickadees are already scouting locations to raise this year's brood.
Now is the times for us to prepare our back yards for the spring nesting season by cleaning nest boxes, feeders and bird baths as well as offering ideal homes and foods for nesting birds.
WBU nest boxes have been specially designed and constructed based on species-specific requirements. Our nest boxes have good ventilation, drainage, insulation, protection from the elements and predators, easy cleaning and durability.
Foods that nesting birds seek include protein and calcium and are found in a number of WBU offerings such as any of the WBU Plus Blends, any of the Jim's Birdacious foods, select WBU suet doughs as well as mealworms.
It's the perfect time to invite birds to nest in your yard by installing nest boxes and offering nesting foods to help birds thrive during nesting season. Enjoy attracting them to our yards for a more intimate look while they raise families.
How Cool is That! Nesting