Get your Seed in Shape
Save 15% on All Seed and Suet Cylinders
Looking for a convenient way to attract more birds to your feeders?
Bird Feeding Made Easy!

Available only at Wild Birds Unlimited, our exclusively-formulated Bird Seed Cylinders are a convenient, easy and tidy way to offer your birds a wide variety of foods. They're made from tightly packed ingredients that last longer, requiring feeders to be refilled less often. Bird Seed Cylinders are great for everyday use, and for keeping your birds fed even when you're on vacation.
Long-lasting and easy to use, our Seed Stackables allow you to offer more than one food at a time and cater to the preferences of the birds visiting your yard. With several unique flavors of Seed and No-melt Dough Stackables to mix and match, you can have fun creating various combinations that will attract different birds to your backyard.
Hot Pepper varieties will discourage squirrels and rodents. Ask our Bird Feeding Specialist for more information and the right feeders for your yard.
Take advantage of our special offer to try a variety of Bird Seed Cylinders in your yard.
For On-Line purchase use Promo Code CYLINDER15.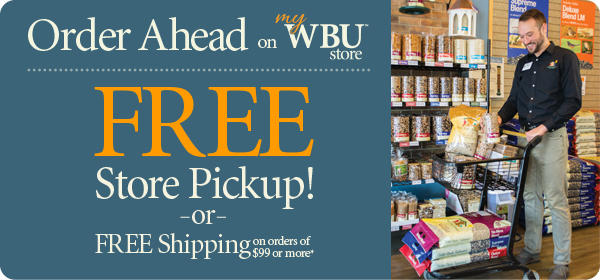 *Seed Cylinder Sale Pricing valid on in-store and online purchases. Daily Savings Club Members get an additional 5% off the sale price. One discount per purchase. Not valid with other discounts or previous purchases. Sale applies to seed and suet cylinders and stackables only. While supplies last; sorry no rain checks. This offers terms and conditions are subject to change without notice at any time. Valid from September 26 through October 2 2022 at WBU Vancouver.
Order ahead for free in-store pickup or get free shipping on orders that ship within FedEx Zones 0-1. Orders that ship to further destinations will incur a shipping charge shown at the time of checkout. Daily Savings Club points will accrue for online purchases when you register at MyWBU Vancouver with the same email address associated with your DSC membership.
---