Suet Feeders
Although suet is an excellent source of energy for your birds on a cold winter day, we recommend that you provide suet to your birds all year round. The most basic suet feeder is a simple and inexpensive hanging cage that holds one or up to three suet cakes (or a suet tub). For a few dollars more, you can get more decorative models or feeders with a tail prop, which helps the larger woodpeckers feed more easily, rather than flopping around on the smaller cages.
Suet is also the easiest food to squirrel-proof. While specialty feeders can protect any kind of suet, you can also simply use Hot Pepper Suet Cakes, which birds like just fine, but which deter squirrels from feeding. Upside-down feeders can let you cater specifically to clinging birds like woodpeckers and chickadees, while caged feeders (such as our WBU squirrel and starling proof suet feeder) keep out larger birds and squirrels.

EcoTough® Tail Prop Feeders: The Prop-er Way to Eat
The EcoTough® Tail Prop Suet Feeder lets birds eat in a natural way. The paddle simulates a tree trunk and offers birds a place to prop their tail while they feed. The EcoTough® Tail Prop Suet Feeder holds one suet cake while the EcoTough® PileatedTail Prop Suet Feeder holds two suet cakes (which is especially great for your Pileated Woodpeckers). Both Tail Prop Suet Feeders are easy to fill and hang anywhere.
EcoTough feeders and houses are environmentally friendly, high quality products that are made from recycled plastic milk jugs. These feeders and houses prevent used milk jugs from making their way into our landfills. EcoTough feeders and houses won't rot, crack, fade or warp like wood can. They also come with limited lifetime guarantees.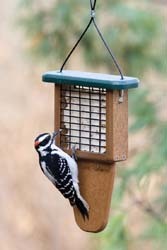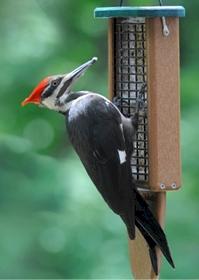 WBU EcoTough® Upside Down Suet Feeder
If you have starlings hogging your suet, turn their world upside-down. Our EcoTough™ Upside-Down Suet Feeder is designed to allow birds to feed from below, a comfortable practice for woodpeckers, nuthatches, chickadees and other clinging birds but difficult for starlings. Not only will it help you control your starling population, but it's also easy to refill, clean and hang.


WBU Squirrel and Starling Proof Suet Feeder
This suet feeder is essentially a cage within a cage. The inner cage holds up to three suet cakes or one suet tub while the outer cage keeps squirrels and larger birds out, only allowing smaller birds access to the suet inside. Don't worry about your Flickers because, while their bodies are too big to fit through the outer cage, they can still reach in with their long neck and tongue.

Made in B.C. Suet Feeders
Available in-store only - come on in or call (604) 736-2676 to order!
Cedar Tail Prop Suet Feeder
The paddle simulates a tree trunk and offers birds a place to prop their tail while they feed. It holds one suet cake, is easy to fill and hangs anywhere.
Unique Hand Made Suet Logs
These beautiful and unique suet logs are perfect to maintain the natural beauty of your yard. Five receptacles hold the suet logs. The birds will cling to the log and happily eat away.