Stop your nectar from freezing
---
HummerHearth Feeder Heater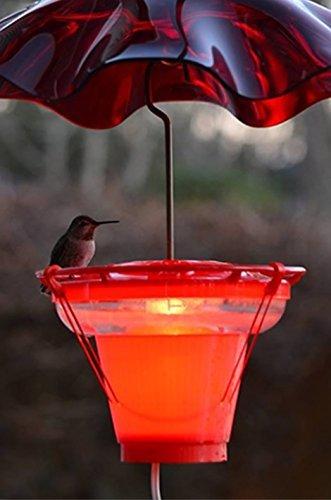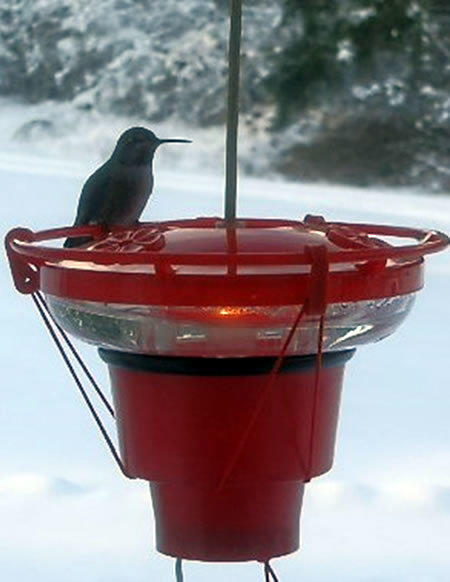 A simple, elegant design. Air is gently heated under your hummingbird feeders, keeping the nectar from freezing. The Hummer Hearth clips easily to the perch of many flat-bottomed hummingbird feeders with an adjustable elastic cord. (All WBU flat-bottomed feeders above 4oz are compatible!) Powered by a 7 Watt bulb, the UL exterior-rated electrical cord plugs into your outdoor extension cord. And it costs just pennies a day to use.
Anna's Hummers stay all winter here in the Pacific Northwest. They get nectar from the flowers of winter-blooming native plants and also eat small insects. After waking from their nightly torpor, they arrive at our feeders as much as an hour before sunrise. With the Hummer Hearth there's no need to bring the feeder in at night and wake up early to put it out.
Designed and manufactured by a local engineer who loves hummingbirds, the Hummer Hearth's simple design lets you rest easy on these frigid days and nights knowing that your little friends will be well taken care of. Weather domes also available to keep snow and rain off your feeder.
Easy to use and set up
Safe. UL compliant outdoor rated cord with built in fuse
Adjustable mounting hooks fit a wide range of feeders
Safe for hummingbirds. It will not overheat the nectar (when used as directed)
Comes with a 7 & 15 watt bulb