Hopper Feeders

WBU EcoTough® Hopper Feeders
All of our Wild Birds Unlimited hopper feeders follow the same unique design as the WBU Classic Bird Feeder. Created in 1990 by Wild Birds Unlimited founder, president and CEO, Jim Carpenter, the Classic Bird Feeder is stylish, durable, easily maintainable, and most importantly allows you to view bird feeding better. Today, our hopper feeders come in a range of sizes and are made out of EcoTough® recycled plastic.
EcoTough® feeders and houses are environmentally friendly, high quality products that are made from recycled plastic milk jugs. These feeders and houses prevent used milk jugs from making their way into our landfills.

Features:
Curved design allows for easy viewing of birds at the feeder
Can be hung or post-mounted (we recommend that larger capacity feeders be post-mounted using our APS system)
Easy to fill and easy to clean
Sturdy and weathers well
Good drainage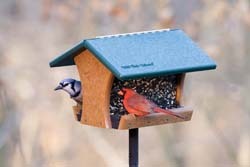 WBU EcoTough® Classic
Imagine a wood-free bird feeder that actually looks like wood! Our EcoTough® Classic won't crack, fade or rot and has a lifetime guarantee. The Classic has curved ends so you can see birds feeding on both sides at the same time. Perch drains allow seed to drop out of the feeder for ground-feeding birds to eat, and angled perches let empty seed hulls be blown away by the wind.
Woodlink Cedar Feeders
Deluxe Ranch Feeder
Large capacity holds 4 lbs of seed. Constructed of thick kiln dried wood with zinc chromate deck screws for years of enjoyment.
Also available in 2 Qt size.