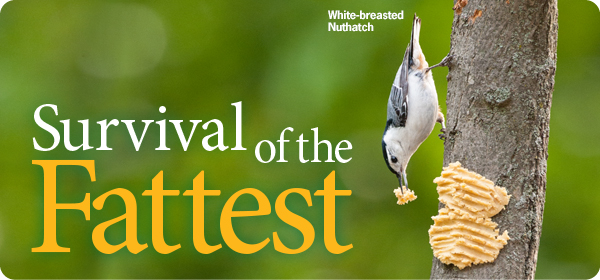 Help Birds by Offering High Fat Foods
High fat foods may be considered unhealthy by most people, but they highly are sought out by backyard birds. Fat provides them with many important nutritional benefits:
Foods high in fat are the most concentrated energy source that a bird can consume.
Stored body fat is the primary energy supply that fuels a bird between meals, through cold winter nights and throughout migration.
Birds actively use bird feeders during the winter, especially first thing in the morning and just before dusk. These are the times they stoke their internal heater with fat to get the day started or to replenish their fat reserves to endure another cold night.
Songbirds may use up to ¾ of their fat reserves during one winter night! If sources of high-fat foods are available, they can entirely replenish those fat reserves during the next day. In some birds this can amount to a 10% fluctuation in their daily body weight.
Bird feeders can be an important food source during winter. When severe weather impacts wild food supplies, birds will turn to feeders as a critical source of high fat foods. It is during these times that feeders play their most vital role. If a storm is of long duration or extreme impact, a feeding station with lots of high fat foods may mean the difference between life and death for these birds.
When a bird exhausts all of its fat reserves, protein, scavenged mostly from muscles, is used to sustain its energy needs. It is important for birds to eat plenty of fat calories each day in order to maintain their strength and fitness.
Our backyard suet feeders provide a direct source of high energy fat and many seeds (sunflower, safflower and nyjer) provide high levels of fat due to their substantial oil content.
High fat foods also provide many of the dietary pigments birds need to impart color in their feathers. These pigment create feather colors that range from red, orange, and yellows to violet.
The top recommended high fat foods for birds are:
Recommended Blends: No Mess NM, No Mess LM, No Mess Plus, NEW Winter Blend
Recommended Seeds: Peanuts, Nyjer, Sunflower Chips
Recommended Other Foods: Suet (PB & J, Naturally Nuts, Nuts & Berries, Christmas Cake) Bark Butter, Bark Butter bits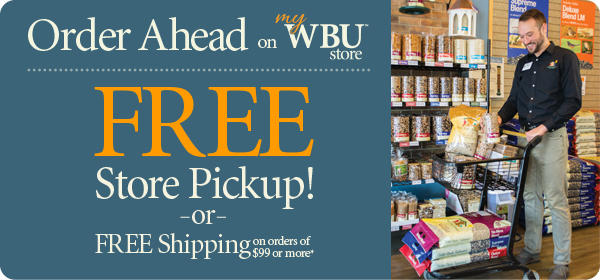 Nobody Likes an Empty Bird Feeder. Especially Your Birds!

Now, you can order your birds' favorite foods, bird feeders and more anytime and from anywhere with our online ordering option called MyWBU. When you order online, you'll get the same prices you'd get if shopping in our store and your order will be handled by the same local WBU staff you already know and (we hope) love.

Whether you can't make into the store and need something delivered, or you just want the convenience of having your order ready for in-store pickup, we've got you covered.
Daily Savings Club points will accrue for online purchases and even count towards earning Bird Buck Coupons.
-----------------------------------------------------
Order ahead for free in-store pickup or get free shipping on orders over $99 that ship within FedEx Zones 0-1. Orders of less than $99 or that ship to further destinations will incur a shipping charge shown at the time of checkout. Daily Savings Club points will accrue for online purchases when you register at MyWBU Store with the same email address associated with your DSC membership. The email we have on file in-store must be the same as the email you use to sign up for mywbu. Call the store today at (604) 736-2676 to make sure our records are correct.