Feed 'Em or Defeat 'Em

They may have a reputation for making bird feeding less enjoyable, however, squirrels aren't going away any time soon. Perhaps by looking at them from a different perspective, you can begin to appreciate, if not enjoy, squirrels and their behaviors.
Squirrels are one of the most curious and adaptable animals to be found anywhere and they are unmatched in their problem-solving ability to defeat many so-called "squirrel proof" feeders!
Squirrels can jump up to five feet vertically and ten feet between trees or structures. They have the ability to cling from objects with their back foot toes (with support from their tail) which allows them to hang upside-down and eat.
They certainly keep our Certified Bird Feeding Specialists on their toes in order to provide you with the latest and greatest advice on how to keep your bird food and feeders safe from these rascally rodents!
So, if you want to keep squirrels from bothering your bird feeding setup, we have the foods, feeders and accessories to confuse and confound even the most brilliant squirrel in your neighborhood.
And if you decide to raise the white flag and enjoy their amazing antics, we have lots of fun and functional squirrel feeders that will brighten up both their day and yours, too.
Visit us soon, and we'll help you feed the squirrels if that's your thing, or we'll help you defeat 'em once and for all.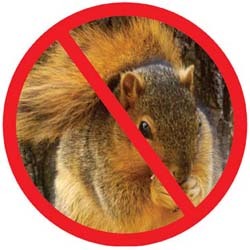 Prevent Squirrels at Your Feeders
There are many ways to keep squirrels from eating all of your bird food.
On-Guard Cages

Try an On-Guard™ wire mesh cage around your existing feeders. Our On-Guard solutions are designed to allow smaller birds access but prevent squirrels (and larger birds) from reaching the food in a feeder.

Distance

Place your bird feeding setup at least 10' away from any tree or building. This keeps squirrels from jumping on top of, or onto, your feeders.

Baffles

Try a pole baffle (middle picture) on your bird feeding setup to prevent squirrels from reaching your feeders from below. Mount the baffle 5' from the ground. You can also use a hanging baffle with your feeder tucked below it to deter squirrels from reaching your feeders from above.

Solution Feeders

We offer a variety of feeders that help you feed the birds, not squirrels.

The Dinner Bell™ feeder has an adjustable dome that can be raised and lowered to only allow access for smaller birds.

The Eliminator™ and Fundamentals Squirrel-proof Feeders are weight-sensitive and will close off access to the food when heavier visitors sit on a perch.
Coles Flaming Squirrel Seed Sauce
Mix this super-hot sauce with bird seed to keep out squirrels
| | |
| --- | --- |
| * | All-natural formula made with spicy habanero chilies |
| | |
| --- | --- |
| * | Use on garden plants, too, to deter rabbits, squirrels, and deer |
Coat your bird seed mixes with Cole's Flaming Squirrel Seed Sauce before filling your feeders, and you will keep backyard birds happy without attracting greedy squirrels. This natural habanero chili sauce is not offensive to birds, but squirrels and other mammals hate the hot, spicy flavor. Use only 3 tablespoons of this concentrated sauce per 5 lbs of seed mix.
Flaming Squirrel Seed Sauce can also be used to coat flower and plant bulbs before planting, to deter squirrels and voles from digging them up. Or, mist your garden plants to deter squirrels and rabbits. This versatile spray provides a natural deterrent to many mammals.
Bird X Yard Gard
Keep Common Pest Animals, like Squirrels, Away from Your Yard. The Yard Gard™ works by emitting ultrasonic soundwaves that irritate pest animals, forcing them to go elsewhere. These soundwaves are silent-to-humans, which means the Yard Gard™ won't bother you or your neighbors!
Safe Green & Non-Toxic
Weatherproof, Motion Activatred
Protects up to 4,000 sq feet
Harmless to birds and pets