Al's Bird Treks
Join Naturalist Al Grass on a FREE monthly guided walk. Walks run from 10:00 am to noon on the third Saturday of the month, and go rain or shine. Everyone welcome!

Upcoming Walks
December 17th
Jericho Park
Meet at the Jericho Park Sign - Main parking lot (east side)
A fine variety of habitats makes for great birding.
January 21st
Trout Lake (John Hendry Park)
Meet in front of recreation centre
Always full of surprises; waterfowl, gulls and more
February 18th
Burnaby Lake
Meet in front of Nature House at the foot of Piper Street
a "Best birding spot
March 18th
Hastings Park Sanctuary
Meet at the corner of Hastings & Renfrew
great winter birding.
Bus service to all locations
Ask Al about our great selection of birding optics - binoculars & scopes.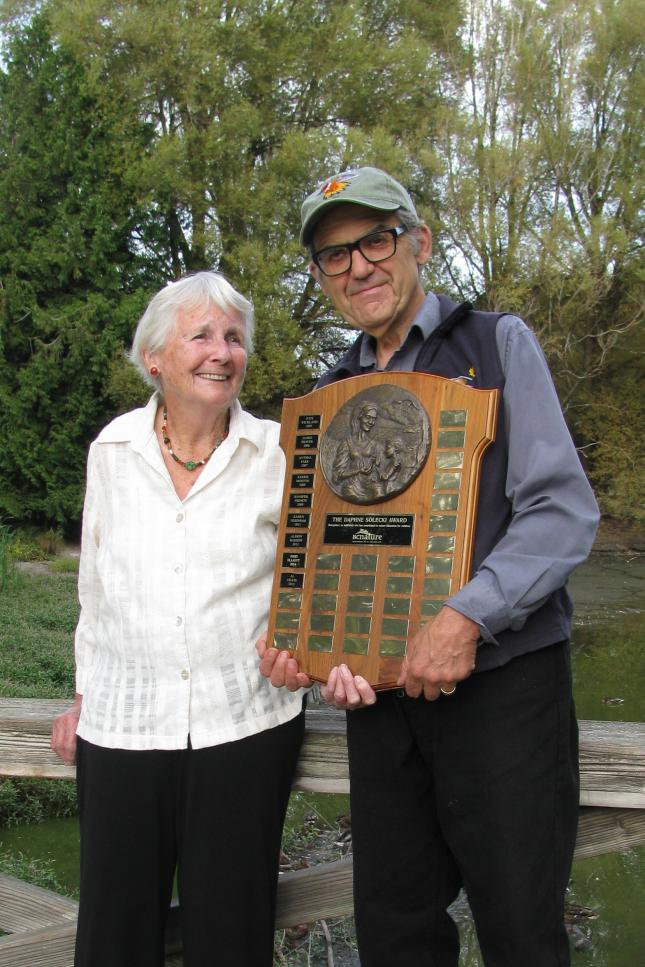 Daphne Solecki & Al Grass
2015 Daphne Solecki Award for Excellence in Nature Education for Children

BC Nature awarded Al Grass the 2015 Daphne Solecki Award for Excellence in Nature Education for Children.
All Grass is well known throughout BC for his love and wide knowledge of nature and natural history. He is equally known for his passion for sharing his knowledge with everyone he meets, adults and children alike, inspiring them to love nature as he does. He has led countless field trips for young naturalists. He has especially tried to share his love of spiders - his favourite 8 legged friends. He wants you all to know what fascinating little animals they are.
Al has been a prolific contributor of articles to NatureWILD since 2000.He has provided great insights into every topic under the sun but there is always something new to get excited about.
Please join us in celebrating Al's contribution to Nature Kids and thank him so very much for all he has given to the children of BC.