Welcome to Wild Birds Unlimited Vancouver
Please Note that Wild Birds Unlimited Vancouver will be
closed Monday September 7th

for Labour Day.
Backyard Bird Feeding Solutions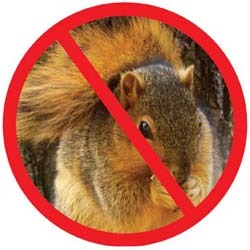 While summer continues to be a wonderful time to feed the birds, unwanted feeder visitors can be troublesome. With the proper feeders, food and accessories, you can enjoy your birds and limit these possible problems.
Guard Against Squirrels and Large Birds
Take delight not only in seeing the finches, chickadees and other colorful birds you enjoy, but also in frustrating the squirrels, grackles, pigeons and starlings. With our On Guard™ cages, you control the size of bird that dines at your feeder. They allow small birds to go in and out to get their seed but stop larger birds and animals from entering. Our cages will fit a variety of feeder styles and sizes.
Our Top-of-the-Line Squirrel-Proof Feeder
The Eliminator™ allows you to stop squirrels from eating your seed. Featuring unique, weight-sensitive technology, the feeder's seed ports are closed when a squirrel touches the perch ring. You can set the sensitivity level to also exclude large birds such as pigeons or doves. It's easy to hang, holds about three quarts of seed and is backed with a limited lifetime guarantee.
Baffle Your Squirrels
Our Advanced Pole System® (APS) Squirrel Baffle is designed to help make your bird feeding station squirrel-resistant. Made of durable, powder-coated steel, these baffles feature a tapered design that is very effective in stopping squirrels before they reach your feeders.
Place your baffle on your setup so the top of the baffle is 4½' - 5' from the ground.
We also offer raccoon baffles.
Attract More Birds with Mealworms
Mealworms Are For The Birds!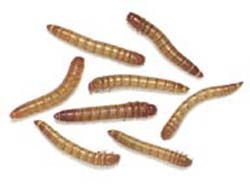 Many birds eat insects naturally, so feeding mealworms to the birds is a natural thing to do. Plus, you'll enjoy watching birds such as chickadees, bluebirds, wrens, towhees, woodpeckers, robins, catbirds, nuthatches, thrashers and others devour these mouthwatering morsels! A Red-breasted Nuthatch was seen taking mealworms from a feeder, and catching them at a rate of three per minute.
Mealworms are the larvae of the beetle Tenebrio molitor. The larvae stage of the beetle typically lasts for 10 weeks. To maintain the larvae in a state of dormancy, they must be refrigerated at 40 to 50 degrees Fahrenheit (lower temperatures can kill the larvae). You can keep mealworms for several weeks and they will maintain their dormant state.
Birds typically look for food around the same time each day, so you can place worms in a feeder or tray at the same time the birds regularly visit. Make sure the birds can access the feeder but that the worms can't crawl out! Some Wild Birds Unlimited feeders to consider are the Dinner Bell and the SideDish™ feeders. Mealworms are a great way to attract birds that don't ordinarily come to seed feeders.
New Mealworm Kits containing: Feeder, Mealworm trail Mix and Mealworm toppings