Splish Splash, Why do birds need to bath
Although the functions of bird bathing aren't clearly known at this point, studies suggest that bathing plays an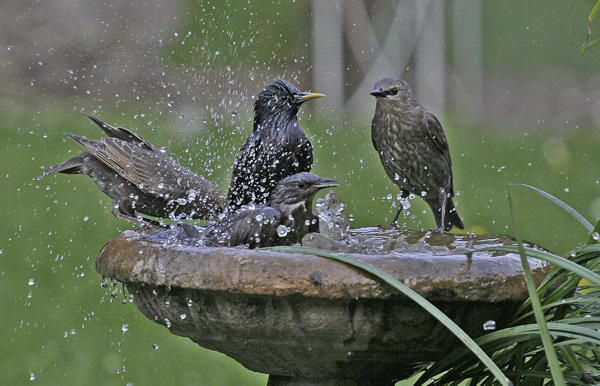 important role in feather maintenance.
Feathers are a bird's lifeline: they insulate, waterproof and, of course, provide the power of flight.
Feathers get replaced once or twice a year. In the interim, they need to be kept in good condition. The sun, feather-munching mites, bacteria and gradual wear take a toll on feathers.
When the weather turns cold it is important to keep Bird Baths from freezing Birds need to keep their feathers clean so that they stay warm. Prevent Bird Baths from freezing with heaters. Great for hummingbird feeders too!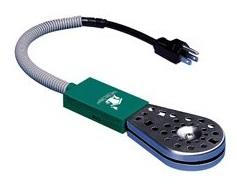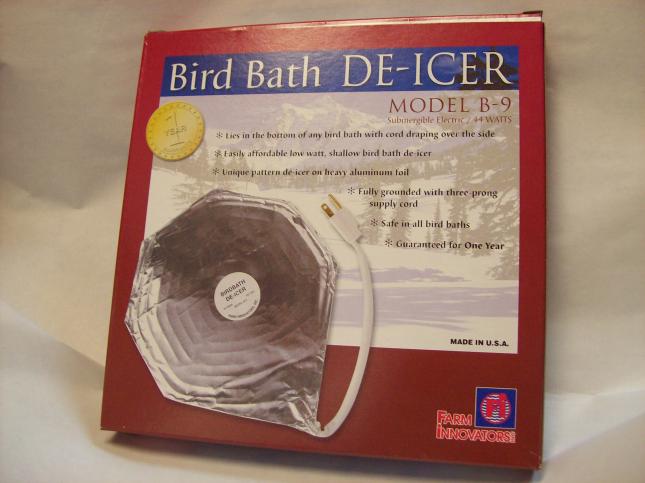 It's Wet: Keep Seed Drier

Weather Domes keep seed drier. We have multiple sizes, including tight-fitting domes made specifically to go with our Wild Birds Unlimited tube feeders, or domes with universal hooks that can be used with nearly any hanging feeder.

Another important thing to consider is your choice of finch feeder. Mesh feeders, whether made of soft fabric or metal, offer minimal weather protection - rain goes right through them! Finch feeders with solid tubes and small holes specifically for Nyjer don't let in much rain. If you haven't been seeing any finches on your feeder recently and your seed has been sitting outside since getting wet, you probably need to put fresh seed out. Learn more about choosing a finch feeder in our Attracting Goldfinches article.

For seed cylinders or characters like Rascal the Raccoon, use a Dinner Bell or other roofed feeder rather than simple pins, or add a dome above uncovered feeders.

This years best stocking Stuffer
Hummingbird Swing. Simply place it next to your feeder and watch how the hummingbirds perch and enjoy their swing. Only $14.95
Looking for the Out-of-Towners
You may have spotted a few feathered out-of-towners that are sticking around for winter.
Winter is a great time to look for uncommon bird species. Juncos and other sparrows and finches may be making a repeat appearance in your yard this winter as many of them come back to the same exact location each year.
Keep your feeders full and look for birds associated with "irruptions." When natural winter food supplies are scarce in northern
Canada, numerous bird species "irrupt," migrating south in search of food.
The most common irruptive birds are Pine Siskins, Purple Finches, Common Redpolls and Evening and Pine Grosbeaks.
By offering the right food (in the right place), you can better your chances of attracting some of these birds.
Juncos
Lovers of millet, you can attract Juncos to your yard by offering WBU Deluxe Blend in a ground feeder or hopper feeder. They're
persistent foragers and have been known to burrow through snow in search of seeds.
Pine Siskins, Purple Finches & Common Redpolls
These "winter finches" are attracted to Finch Feeders filled with Nyjer® (thistle). You can also attract them to your Seed Tube Feeders by offering Supreme Blend.
Grosbeaks
If they're visiting your yard, be ready - they are hungry birds. For best results, offer Supreme Blend in a Hopper Feeder. Before
the 1850s, Evening Grosbeaks were not commonly found east of the Rocky Mountains. Now, winter irruptions can occur across the country.
As you can see, our feathered guests' tastes and preferences vary, so it's important to be prepared. Because before
you know it, these out-of-towners will be just that - headed out of town.
Visit us this month, and we'll make sure you have everything you need to keep your resident birds happy and to attract these winter migrants.
Treats for the Birds
Christmas Seed Blend - A premium seed blend with high-energy sunflower seeds, suet nuggets, peanuts, almonds and cranberries. Attracts a variety of wild birds
Christmas Suet -Full of peanuts, almonds and cranberries, our exclusive Christmas Cake™ Suet is a high-calorie energy source that attracts birds such as woodpeckers, chickadees, titmice and nuthatches. And like all of our suet, Christmas Cake is rendered to eliminate impurities.
Become a Project FeederWatch Volunteer!
New season starts Saturday November 14th
Click here for more information