Fun Facts About Hummingbirds
There are 18 hummingbird species in North America. Hummingbirds are found no where else in the world except the New World (North, Central, and South America.)
There are over 325 species of hummingbirds, making them the second largest bird family in the world, second only to flycatchers.
Hummingbirds weigh 1/10th of an ounce; about the weight of a penny.
Hummingbirds' brains are about the size of a BB.
Hummingbirds' hearts are larger proportionally to their body than any other bird or mammal.
Hummingbirds have such underdeveloped legs that they are unable to walk well.
A mother hummingbird weighs only about eight times more than her egg.
Hummingbirds lay the world's smallest bird egg.
Hummingbirds generally lay two eggs, each about the size of a blueberry.
Hummingbirds learn to associate flower colors, like red, with food. They do not have an innate preference for red.
They drink nectar from plants and sugar water from feeders.
Hummingbirds lap up nectar with their long tongues. There is a groove on either side of the tongue that creates a capillary action to help draw the nectar up the tongue and into the mouth during the lapping action.
While lapping up nectar, Hummingbirds can move their tongues in and out of their bill at a rate of up to 12 times a second.
How to Choose the Best Hummingbird Feeder
What Do I feed Hummingbirds?
In Summer the safest, purest nectar you can make is - 1 part white table sugar to 4 parts water. Replace with fresh nectar once to twice a week in summer. Clean the feeder with hot water before each refill. Do NOT add red food colouring.
With our Decorative Window Hummingbird Feeder, only a window pane stands between you and "the jewels of nature" — hummingbirds. This feeder is easily mounted to any window with two suction cups, and its clear bottom allows you to see hummingbirds quickly lap up the nectar solution. The Decorative Window Hummingbird Feeder features three feeding stations and a moat that, when filled with water, will keep ants and other crawling insects out of the feeder. It's also easy to clean and comes with a lifetime warranty (even if it falls to the ground).
Just For Mom
Bonus Hummingbird Swing*
with purchase of 12 or 16 oz. Wild Birds Unlimited Hummingbird Feeder.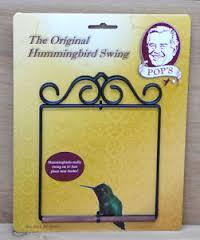 *one bonus per customer, while qty lasts. Original style hummingbird swing. Valid until May 8th