Earn Double Points!
August 25 thru August 29th, 2016
It's a Party just for YOU! We want to thank you for all you have done for our store and the birds. We have planned a wonderful event especially for you, and we hope you will attend!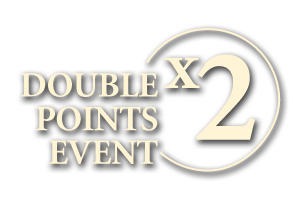 During our event, Daily Savings Club® members earn Double Points with every purchase. That means you reach 200 points faster and earn a $10 Bird Buck, good for a future purchase of any merchandise in the store.
No minimum purchase required to receive Double Points, and only Daily Savings Club members can enjoy this special offer.
Not a DSC member? Join now to take advantage of this special member-only offer.
Save 20% on All Bird Baths
Choose from a great selection of concrete, metal and glass.
Birds Need Water
During the hot and often dry conditions that make up the "dog days of summer," you will be doing yourself and your birds a big favor by providing them with a reliable source of water.
Water is very important to birds. Whether they are feeder visitors or not, birds need water. Offering a dependable source of water is probably the simplest and most important step you can take to greatly increase the variety of birds in your yard.
It can also significantly increase your enjoyment of your birds by allowing you to watch their often comical antics as they drink, bathe and preen.
However, as entertaining as it is for us, water (or the lack thereof) can be deadly serious for birds. Birds must be ready to fly at all times, and bathing is a critical part of feather maintenance and staying in top-flight condition.
Water is also vitally important when it's extremely hot and a bird's ability to regulate its body temperature can become stressed. Birds do not sweat and must remove excess body heat through their respiratory system. So when temperatures rise, a bird's respiration rate increases, sometimes to the point that it can be seen panting like a dog. This activity dehydrates birds and increases their need for a reliable source of water to replace lost fluids.
So, while the addition of a bird bath, fountain or mister to your yard can supply hours of enjoyable bird watching entertainment for you, it may also be providing a lifesaving necessity.
Deter Unwanted Visitors
Mosquitoes lay their eggs in still water, so open sources of water can cause a potential mosquito problem. Use a fountain, waterfall accessory or water wiggler to create ripples and deter mosquitoes from laying eggs in your bird bath.
Visit us soon, we have everything you and your birds need to make the most of late summer.
Making the Most of Late Summer
Though this month marks the beginning of the end of summer, there are still plenty of opportunities to help birds and maximize your backyard enjoyment. Water in motion is also more attractive to birds and sounds great too!

Hummingbird Migration
Millions of hummingbirds are preparing to fly back to their winter ranges. Hummingbirds have been migrating between North and Central America for hundreds of years, some traveling thousands of miles each way.
A high-calorie diet is important to build fat reserves for their trip, so be sure to have your hummingbird feeders ready.
Studies show that most of the hummingbirds visiting your feeders on a day toward the end of migration season are replaced by a new wave of migrants within 24 hours.
Fun Facts About Molting
Molting is the process by which a bird replaces its feathers.
Most backyard feeder birds molt from July-September. Some molt through October like Downy Woodpeckers, Mourning Doves and Eastern Bluebirds. American and Lesser Goldfinches can molt through December.
Protein is essential for growing strong feathers. Fats are essential for feather coloration.
Every molting bird needs extra proteins to grow strong feathers for proper flight and effective insulation. They need extra fats for energy to grow feathers and provide proper coloration to best attract a mate.
Feathers are over 90% protein, primarily keratins. A bird's feathers contain 25% of the total protein found within its entire body.
It takes extra energy to grow feathers and also the right building blocks to grow them. The main ingredients in growing feathers are amino acids (protein) and lipids (fats). Birds will eat more of their daily diet and / or seek out foods high in protein and fat to satisfy both the extra energy requirements and the needed building blocks.


Birdacious Bark Butter Suet, Tubs or Bits are a great source of protein and calcium. Excellent
for providing molting birds with the energy they need


New Affordable Homes in Vancouver

See the worlds most spectacular birdhouses and birdfeeders. Great functional homes for chickadees. finches and wrens.
Removable walls for easy clean
Ventilation and unique climbing frame mesh
fabulous attention to detail - hand-crafted kiln dried hardwood. All finishes are non toxic water based paints.