Gifts
Wild Birds Unlimited is not just a Backyard Bird Feeding store - we also carry a wide variety of gifts for the nature lover in your life or for yourself! We are always bringing in new and unique gifts so come in and have a look. Click the buttons below to see examples of what we carry, and be sure to visit us in-person for the full experience.
The Perfect Gift for Every Nature Lover
Every nature lover is different, so finding the ideal gift for him or her can be difficult. That's why our Gift Cards are the perfect gift for every occasion. They allow your friend or loved one to choose what part of nature he or she wants to enjoy.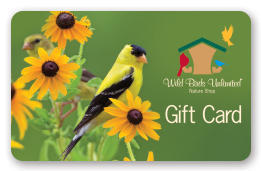 An example of what we carry...
For the Traveler: "Heat Guards" and "That's My Bag"
Attach this bright identifier to your suitcase handle to avoid carousel confusion.
Catches your eye but not the conveyor belt.
Tidy Velcro closure.
100% Cotton Machine wash/hang to dry.
Made in Canada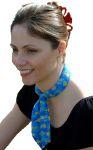 The Heat Guard is a tubular tie containing polymer crystals. For first time use or, when dry, soak tie in lukewarm water for 20 - 30 minutes. The crystals absorb water, expanding to more than 400 times their original weight. This water is slowly released onto the fabric, keeping it cool through the natural process of evaporation. No refrigeration is necessary. The great absorption rate of the crystals allows for sufficient water storage to produce a continuous cooling effect for 1 full day. Great for gardeners, golfers, hikers, athletes, work crews, kitchen and laundry workers, MS patients, migraine headache sufferers, chemotherapy and radiation patients, hot flash and fever sufferers and, of course, anyone living or vacationing in hot climates.