World's Best Hummingbird Feeder!
If you are looking for a bee-proof, ant-proof, non-dripping, easy to clean, easy to fill, no muss, no fuss nectar feeder the saucer style feeders are the best! The Wild Birds Unlimited HighView™ hummingbird feeder and Oriole feeders offers a perch that invites birds to rest comfortably as they drink and allows us an unobstructed view of the bird. The built-in ant moat blocks crawling insects and the patented Nectar-Guard tips (optional) on the feeding ports prevent bees, wasps, and other flying insects from contaminating nectar. The cover shades the nectar from the sun, and the bright color attracts hummers and orioles from a distance. Maintenance is also a breeze. The top removes easily so the bowl can be cleaned quickly and thoroughly.
The Wild Birds Unlimited HighView Hummingbird Feeder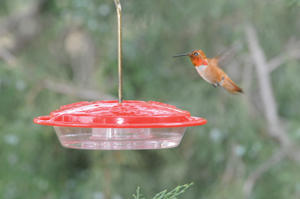 * HighView perch for optimal viewing
* Built-in ant moat
* Easy cleaning and filling
* Drip and leak proof
* Features nectar-level indicator on bowl
* Raised flowers divert rain
* Bright red cover constructed of UV stabilized polycarbonate
TIP: Hummingbirds like to perch while they eat to help conserve energy for migration, but a perch is not required.