Please Note: We will be CLOSED Monday September 7th for Labour Day.
Please enjoy a happy and safe holiday.
Being Seasonally Savvy: Help Birds During Molting Season
Just as people make seasonal wardrobe changes, many birds are beginning a transformation of their own by replacing their old and worn feathers in a process known as molting.
Molting is when a bird replaces some (partial molt) or all (full molt) of its feathers.
This complicated process requires a lot of energy and may take up to eight weeks to complete. Molting is so physically demanding for most ducks and geese that they can't fly and will molt in seclusion to avoid predators.
Molting season varies by species and time of year. Right now many birds are beginning their main molt of the year, however American Goldfinches are one of the last to molt. Due to their late nesting period, they won't start their molt until late August.
Distinguishing birds that are molting from those that are not can be difficult. Though some birds may lose patches of feathers and appear "balding," most birds' feather loss and replacement are far less noticeable.
Feathers are made of more than 90% protein, primarily keratins, so every molting bird needs extra proteins to grow strong feathers for proper flight and effective insulation.
Research shows that a consistent and reliable source of food actually helps birds grow higher quality feathers. Keep your feeders filled and also offer high-protein foods such as Nyjer® (thistle), peanuts, Jim's Birdacious® Bark Butter® and mealworms, to ensure that your birds have the reliable source of protein and fats to help them with molting.
Visit us soon for all of the high-protein foods that will meet your birds' needs. We have everything you need to help your birds keep going (and re-growing feathers) during this critical time.
The above matrix is a timeline when North America bird species are at their peak molting period according to "The
Birds of North America Online" website, http://bna.birds.cornell.edu/bna.

Actual duration of molt and timing of molting varies between birds and regions. As a rule of thumb, it generally
takes about 4 weeks for songbirds to fully molt their feathers. However, in some cases it may take up to eight
weeks. Also, generally more Southerly birds molt a bit sooner in a season than their more Northerly counterparts.
Summer/Fall molts are usually complete molts (head, body, flight and tail feathers). Whereas, Spring molts are partial
molts (head and body) and done only by a few bird species.

*Goldfinches perform a complete molt somewhere between July and December depending on the species and their
geographic region. American Goldfinches and Lesser Goldfinches (in the Central States) also perform a partial molt
(head and body) in the Spring.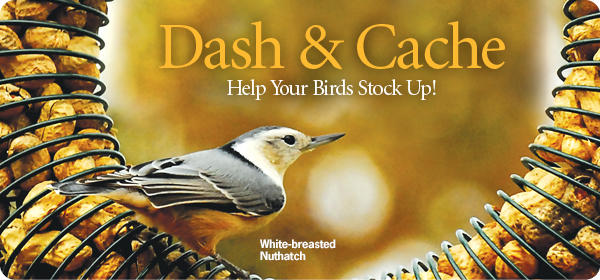 Being Seasonally Savvy: Cashing in on Caching

Right now chickadees, nuthatches, titmice and jays are hiding food to retrieve and eat later this season. This behavior is called "caching." Caching helps birds survive during bad weather and when food sources are low. These birds can store hundreds of seeds a day. Each seed is placed in a different location and they generally remember where each one is, even months later.
By providing a foundational feeder filled with their favorite foods, you can help your birds with their caching needs. Recent research has shown that a consistent and reliable source of food helps birds to build body fat reserves, reduces their physiological stress and helps to maintain a healthy body condition.
Chickadees prefer to cache black oil sunflower seeds; often eating a small portion before hiding it in and under bark, dead leaves, knotholes, clusters of pine needles, gutters, shingles and in the ground. Chickadees caches more in the middle of the day when visiting feeders.
Titmice are rather particular. They choose the largest sunflower seeds available to eat and cache. Titmice and chickadees like to cache seeds within 130 feet of bird feeders; your yard or a neighbor's yard. Often, they tuck seeds into the bark and crevices of a wood pile or on a large branch. They even cache them under mulch in a garden.
Nuthatches prefer heavier sunflower seeds over the lighter ones. Be sure to have some sunflower chips in your blend, too, as they like these 25% more than ones in the shell. They prefer to hide foods on deeply furrowed tree trunks and the underside of branches. Nuthatches are also known to hide seeds under a shingle or behind wooden siding.
Jays love to cache peanuts, sunflower seeds, acorns and pine nuts. They are especially fond of peanuts in the shell. They bury them in the ground and are known to cache about 100 in a day; emptying a feeder in no time. Watch for them make repeated trips to your feeders (or an oak or pine tree) and fly off. They can travel up to two miles to bury their nutritious treasure.