Nesting Bird Activity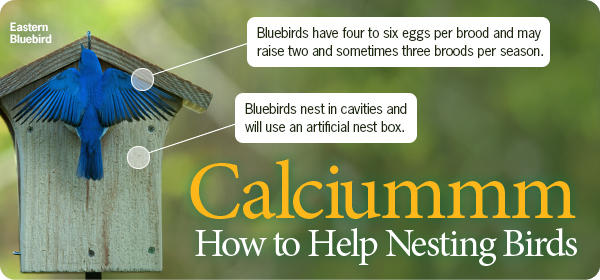 You Can Help Nesting Birds

Did you know that some birds nest in cavities but can't make them on their own? Providing a safe place for birds to have their young is a key to creating a bird-friendly habitat.
When choosing a nesting site, a bird's primary consideration is location. Protection from predators and proximity to food is crucial to the success of a bird's offspring. When food sources are abundant and easy to obtain, adult birds have time to select good nest sites and construct higher quality nests.
Jim's Birdacious® Bark Butter® Bits are packed with energy for quick grab-and-go bites with added calcium. The much needed calcium is attractive to egg-laying moms as well as nestlings and fledglings.
You can welcome nesting birds to your backyard by providing a proper nest box, nesting material and the right foods. Stop by the store for everything you need to help birds thrive this nesting season.
Why is a bird attacking my window?

Birds like robins and sparrows will dash repeatedly at their reflections in windows. Such actions are usually because the individual bird, usually a male, mistakenly perceives another bird in the reflection. It is territorial behavior for the bird to fight off the intruder. This behavior, if continued over a period of weeks or even an entire season, can be annoying to people, but is usually not fatal to the bird.
There are two ways to help prevent this behavior:
Eliminate the reflective qualities of the glass window so it does not act as a mirror
Create a physical barrier between the bird and the window
A light colored or white material placed against the inside of the glass may help to reduce the reflection enough to stop the attacks. This can be newspaper, a sheet, a white window cleaner or other material. Interior vertical blinds (that are light in color) with the slats half open or closed may help. A dark room or dark drapes will actually increase the reflection and encourage more attacks. You may also apply things to outside of the glass like an opaque window decal, plastic sheet like a grocery bag or soap the window.
If all else fails, you may need to cover the outside of the window with a thin netting to prevent the bird from actually reaching the window. One of the advantages of the netting is that it allows you to still see out the window.

Keep Woodpeckers Off Your House

Generally, woodpeckers peck at houses for one of three reasons – to attract a mate or proclaim territory, to seek food (insects in the wood), or to try to create a nest in the side of a building. Try the following options.
Scaring Woodpeckers

Scaring woodpeckers may be successful if started promptly. Scaring the woodpeckers from the house or area relies upon the bird's response to danger or unpleasant experiences.
Light pie plates, metal can lids, or scare tape can be suspended on a string. One end of the string can be near a convenient window or door where the line can be jerked whenever the bird appears.
Attach string to the ends of aluminum foil strips cut two to three inches in width and two to three feet in length and hang from damaged or tapping sites.
Pinwheels with reflective vanes may be attached at tapping or damaged sites. These must rotate in order to be a deterrent.
Models or silhouettes of snakes, owls or hawks may be the least effective unless they are hung to move in the breeze and/or in conjunction with playing recorded calls of birds of prey.
Excluding Woodpeckers
Cover the site with plastic or nylon netting or hardware cloth. Permanent installation of hardware cloth or other screening may be the best solution when woodpeckers make repeated attempts over several years to make holes or nests.
Metallic or wooded surfaces used for drumming may be wrapped or covered with cloth or foam. An alternative tapping site or surface such as a wooden box or metal cylinder hung in a less annoying location may be considered.
Placing a woodpecker house over the area if the bird is interested in nesting may encourage the bird to stop creating another hole.