Birds Don't take vacation!
Over 100 North American bird species supplement their natural diets with bird seed, suet, fruit and nectar obtained from feeders.
Access to abundant and healthy food supplies is important to birds…regardless of the season. Bird feeders provide a portion of these important nutritional needs for your backyard birds throughout the year.
Birds with access to backyard feeders benefit greatly from their ability to spend less time foraging for food and more time engaging in activities that enhance their health and safety. These activities can include:
Feeders allow breeding birds to spend less time searching for food and more time selecting better nesting sites and constructing higher quality nests. Adults will also have more time available for protecting their nest, eggs and young from predators.
Research studies have shown that birds with access to bird feeders will often lay their eggs earlier than those without feeders. This is significant because earlier broods typically have better rates of survival and fledging success than later broods.
When abundant food is accessible to parent birds, it means that more food is provided to their chicks. This extra nutrition can increase the nestling's rate of growth and reduce aggression among nest siblings.
Access to bird feeders allow breeding females to spend less time foraging which leads to better protection of eggs from predators, earlier fledging of the nestlings and higher survival rates of the brood.
Birds are very vulnerable to predators while searching for food, the distraction of foraging results in a reduced ability to focus on dangers and threats from predators. Less time spent foraging means more time spent being vigilant in spotting a predator in time to successfully evade it.
Feeding your birds in the summer will not make them too lazy, too dependent or keep them from migrating at the appropriate time. These misconceptions have been dispelled by modern research and observation.
Contrary to popular belief, recent research shows summer to be the most abundant season for birds to visit feeders.
The food and housing we provide can make a significant difference on how well birds will thrive and survive in our own backyards:
Save 20% on All Birdbaths*
How to Provide Water for Summer Birds

To attract the greatest variety of birds to your yard, provide a source of water along with your feeders.
Recommended Baths

Bird baths come in many shapes, sizes and materials, and they can be placed on the ground, pedestal-mounted or hung.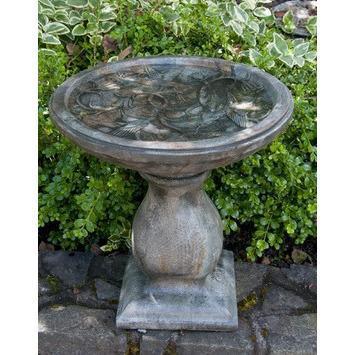 1. Concrete baths are often the centerpieces of well-manicured landscapes. These baths are difficult to relocate because of their weight, and they can become a permanent decorative element in your yard.
2. Ceramic bath styles can range from simple to very decorative. Their light weight makes them easy to relocate about the yard and to clean.
3. Plastic and metal baths are light, versatile and able to be easily moved about your yard. These baths work well with a bird bath heater and, unlike concrete and ceramic baths, they can be used in freezing conditions.
Birds prefer to bathe and drink in different depths of water. Use a bath with a sloped edge or add stones to vary the depth so birds can bathe comfortably.
Place your bath 10 to 12 feet from shrubs so predators can't surprise the birds. Shrubs also offer birds a place to preen their feathers and dry off.
Recommended Items

You will attract more birds with moving water. Use the Water Wiggler™ to create motion in your bird bath and to prevent mosquitoes from breeding in the water.
Regular cleaning will help reduce algae and is good for your birds' health. Scrub your bath regularly with our EcoTough® Scrubber Brush, rinse well, and replace with fresh water.
*Valid in-store only on Birdbaths and accessories over $50.00. One discount per transaction. Valid 8/6/19-8/18/19