Vancouver, British Columbia
Mark & Laura Eburne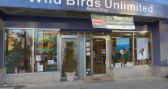 We're passionate about birds and nature. That's why we opened a Wild Birds Unlimited Nature Shop in our community.
Vancouver, British Columbia
1302 West Broadway,
(at Birch) FREE PARKING IN REAR
Vancouver, BC V6H 1H2
Phone: (604) 736-2676
Fax: (604) 736-5419
Email: Send Message
Store Hours:
Mon - Fri: 9:30 am - 6:00 pm
Sat: 9:30 am - 5:30 pm
Sun: 11:00 am - 5:00 pm


WBU Daily Savings Club
Members can save money all year long
on the freshest bird food in town.
$25 Annual Membership Fee