Vancouver, British Columbia
Mark & Laura Eburne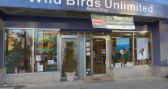 We're passionate about birds and nature. That's why we opened a Wild Birds Unlimited Nature Shop in our community.
Vancouver, British Columbia
1302 West Broadway,
(at Birch) FREE PARKING IN REAR
Vancouver, BC V6H 1H2
Phone: (604) 736-2676
Fax: (604) 736-5419
Email: Send Message
Store Hours:
Mon - Fri: 9:30 am - 6:00 pm
Sat: 9:30 am - 5:30 pm
Sun: 11:00 am - 5:00 pm


Bird Feeding Tips and Solutions
Here at Wild Birds Unlimited Vancouver we help customers like you come up with solutions to your backyard bird feeding problems. Here are a few helpful tips to some of the common issues we hear about. Be sure to stop by and speak with one of our Backyard Bird Feeding Specialists for more information. We'd be happy to help you with your unique situation!