What's New In Store!
Keep Common Pests away from your yard
Yard Gard
Keep Common Pest Animals Away from Your Yard. The Yard Gard™ works by emitting ultrasonic soundwaves that irritate pest animals, forcing them to go elsewhere. These soundwaves are silent-to-humans, which means the Yard Gard™ won't bother you or your neighbors!
Safe, Green, non-toxic
weatherproof
Motion Activated
Protects up to 4,000 sq feet
Harmless to humans, pets & birds
Target Pests: Deer, Raccoons, Squirrels, Rodents, Skunks & more
Coles's Flaming Hot Sauce
Flaming Squirrel seed sauce
A nutritional birdseed supplement that contains all natural, 100 percent food grade ingredients with a super hot and spicy flavor

It tastes hot to mammals but not to wild birds

To keep squirrels and voles from digging up your bulbs, dip each one before planting

The 8 oz. Seasons 30 pounds of Birdseed.

Solemate Socks
Life is too short for matching socks. Get yours today. Large selection of great colours.
Recycled cotton. Colours stay bright. Get your complete wardrobe of socks.
WBU No-Mess Plus Blend:
Includes Bark Butter Bits, Cherries and Cranberries for the Birds
No Mess for You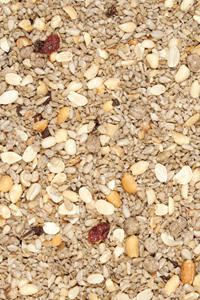 WBU No-Mess Plus Blend, compared to other blends, provide a more balanced nutritional offering at feeding stations to meet the needs of nesting birds and increase the frequency of visits to feeders. Not only does it provide much needed supplemental energy for the high demands of the nesting season, the added calcium is the perfect ingredient to help strengthen egg shells for nesting birds and an essential building block as baby birds grow.
Calcium is the most challenging mineral for birds because when they need it in their diet they need large quantities and they need it right away. This is mainly during nesting time for egg laying as well as chick development. The amount of calcium in their natural diet of seeds and insects is often inadequate and they must seek calcium-rich foods as a supplement. Our No-Mess Plus Blend offers them the much-needed calcium and it does it all with no shells so it is a wonderful no mess option for you.
Watch for increased evening feeder activity by female birds as they consume concentrated calcium sources to form an egg overnight to lay the next day.
Also, offering WBU No-Mess Plus Blend makes it more likely that you will see fledgling birds at their feeders later this spring as they learn to feed themselves.
The Birders Guide to Vancouver and the Lower Mainland
Revised Edition. The Vancouver area is a wonderful destination for birdwatchers. All new colour maps and photographs, this guide explores 33 local birding areas.